WESTERN YELLOW-BILLED CUCKOO } Coccyzus americanus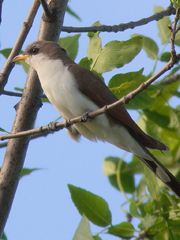 RANGE: West of the mountain ranges that form the eastern edge of the Rio Grande watershed in southern Colorado, New Mexico, and Texas
STATUS: Rare in the West and declining. Listed as Endangered in California where development is disrupting the riparian woodlands in which it lives. A Candidate for listing under the U.S. Endangered Species Act.
THREATS: Loss, degradation, and fragmentation of riparian habitat due to widespread logging, grazing, water diversion and pumping, agribusiness, and urban sprawl
Shy and reclusive, the western yellow-billed cuckoo would really rather just be heard and not seen; its loud "ka, ka, ka, ka, ka, kow, kowp, kowp, kowp, kowp" call is often the only evidence of its presence. Unfortunately, this species is at the forefront of an ongoing disagreement about whether or not it really is the western yellow-billed cuckoo, or just a "regular" yellow-billed cuckoo like its relatives in the eastern United States. We humans can argue all we want—all this unassuming bird knows is that its habitat is rapidly shrinking and its numbers are plummeting. It is estimated that the western yellow-billed cuckoo has been pushed out of 95 percent of its original range west of the continental divide. Protecting the cuckoo and its habitat is essential, or else its call will disappear from the West for good.