PINE BARRENS TREE FROG } Hyla andersonii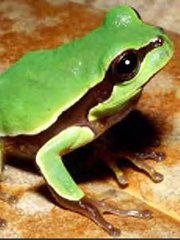 RANGE: Southeastern U.S. (New Jersey Pine Barrens, Fall Line sandhills of North and South Carolina, and Florida Panhandle and adjacent southern Alabama)
STATUS: The World Conservation Union lists the Pine Barrens tree frog as Near Threatened. It is considered Endangered in New Jersey, Significantly Rare in North Carolina, Threatened in South Carolina and Alabama, and Rare in Florida.
THREATS: Agriculture, development, plant succession due to interruption of natural fire cycles, and changes in water table or water chemistry of herb bogs and shrub bogs caused by agricultural and residential development upstream
Even though the Pine Barrens tree frog sports markings that resemble a superhero getup — mask, cape, and gauntlets — it can't fight off the many effects of human encroachment alone (maybe it needs a sidekick). This diminutive tree frog calls the southeastern United States home, but there are three major geographic reaches where it lives: the New Jersey Pine Barrens, the Fall Line sandhills of North and South Carolina, and the Florida Panhandle and adjacent southern Alabama. Where it thrives (bogs, bogs, and more bogs), the Pine Barrens tree frog feeds on insects such as grasshoppers, beetles, ants, and dipterans. Unfortunately, populations of Pine Barrens tree frogs have dwindled in all three regions.