BARE-SHANKED SCREECH OWL } Megascops clarkii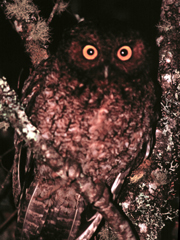 RANGE: Costa Rica, Panama, and extreme northwestern Colombia
STATUS: The status of this owl is uncertain, but Owlpages.com considers this species apparently generally Rare. NatureServe ranks it as Vulnerable. It's a good candidate for a status review because of its limited range, lack of overall population estimates, and loss of habitat.
THREATS: Limited range and loss of habitat, particularly in Costa Rica due to dairy farming
If you know where to find it, the bare-shanked screech owl is fairly easy to spot since it's one of the largest screech owls in the world: adults measure about 10 inches tall. Of course, you have to have sharp dusk or night vision, since these forest denizens are nocturnal creatures. They live in large family groups and stray from their nests mainly to eat (they like large, crunchy insects like grasshoppers and beetles, but they won't turn down a meal of shrews or small rodents). In fact, once they establish a home base — and juveniles are always encouraged to find new territory — they rarely venture out far from home.
Bare-shanked screech owls thrive best in humid, dense mountain forests, forest edges, and cloud forests in Costa Rica, Panama, and the extreme northwestern reaches of Colombia. Fortunately, they occur in several protected areas of Costa Rica, including Monteverde Biological Reserve, Volcán Poás National Park, Panama Highlands, and Darién Highlands.